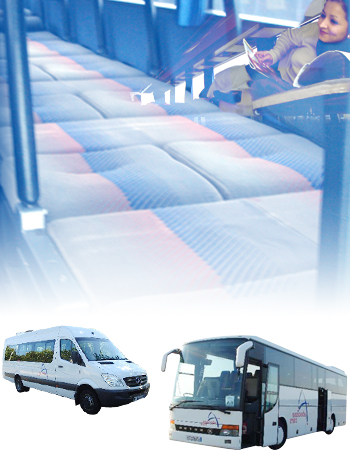 Our preferred vehicles are MERCEDES-BENZ and SETRA, itself a member of the Mercedes group.
We may advise our customers that we will use vehicles from partner companies such as
VAN HOLL coaches
, manufactured by a leading Belgian company and provided with "MAN" engines or, alternatively,
BOVA coaches
, made in Holland and supplied with "DAF" engines.
Other less well known but equally reliable vehicles may also be employed. These include
NEOMAN (Néoplan and Man)
and
TEMSA (Man)
.
These manufacturers have a European or world-wide profile and, like Mercedes-Benz, provide a 24 hour rescue service. This guarantees continuity of our operation in any situation.
Light vehicles are available to ensure the provision of relief drivers, if there is a need for technical help or urgent personal attention.
Drivers and customers have access to two telephone numbers to contact management in case of an emergency.
---
Couchettes
Dream of leaving Paris for a weekend on the ski slopes !
Meet on Friday evening at around 10 pm. You travel in a coach, stretched out in comfort on a specially adapted couchette... you wake up on Saturday morning at 8 o'clock at the foot of the ski slopes, ready to go !
Every moment of the two days can be devoted to sport and relaxation. You leave on Sunday evening at 7pm, travelling back in the same way and arriving in Paris on Monday morning at 6am, fit and well !
You have enjoyed your weekend to the fullest and the journey has not deprived you of a minute of your time. You will love the "couchette coach", which can transport 40 passengers in great comfort.
This arrangement is especially appropriate for employee outings or for student groups because it has the added advantage of being very good value.